Now that the spring semester is over, many of you who aren't taking summer classes are dreading being stuck in quarantine at home without anything to do. There are plenty of other activities you can focus your time and energy on. The Oakton Library has you covered! From finding a new hobby such as cooking or decorating to starting that one hobby you've never had the time for, now is the time to let your creative instinct take over. Check out the Oakton Library's eReadIllinois collection to find books that will entertain, motivate, and inspire you during this time.
Here is a sneak peek of some of the books we have in our collection: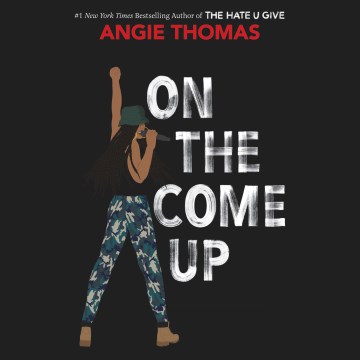 On the Come Up
by Angie Thomas
"This is the highly anticipated second novel by Angie Thomas, the author of the number-one New York Times best-selling, award-winning The Hate U Give. Sixteen-year-old Bri wants to be one of the greatest rappers of all time. Or at least get some streams on her mixtape. As the daughter of an underground rap legend who died right before he hit big, Bri's got massive shoes to fill.
But when her mom unexpectedly loses her job, food banks and shut-off notices become as much a part of Bri's life as beats and rhymes. With bills piling up and homelessness staring her family down, Bri no longer just wants to make it—she has to make it" (EReadIllinois).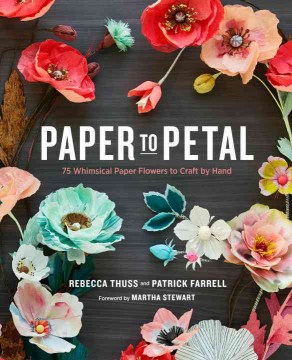 Paper to Petal: 75 Whimsical Paper Flowers to Craft by Hand
by Patrick Farrell and Rebecca Thuss
"Paper Flowers are Always in Season. Make playful party decorations, luscious bouquets, and sophisticated floral centerpieces with inexpensive tissue and crepe paper. Paper to Petal walks you through the easy basics of transforming simple materials into a vibrant display of fanciful handmade blooms suitable for every occasion.
Design experts Rebecca Thuss and Patrick Farrell inspire you to get creative with their time-tested techniques. Customize every petal, leaf or stem to go dramatic or delicate; mimic nature or fashion your blossoms in any color you can imagine to make something uniquely personal. You'll be amazed how easy it is to produce these gorgeous flower projects. These exquisite blooms never wilt, are always in style, and are endlessly fun to create, share, and give to everyone you love" (EReadIllinois).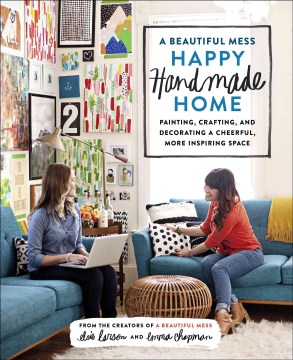 A Beautiful Mess Happy Handmade Home
by Emma Chapman and Elsie Larson
"The two sisters behind the DIY blog A Beautiful Mess offer cost-effective projects to transform every room of one's home, including how to create an accent wall with impact, repurposing beloved belongings into decor, and creating attractive storage solutions" (EReadIllinois).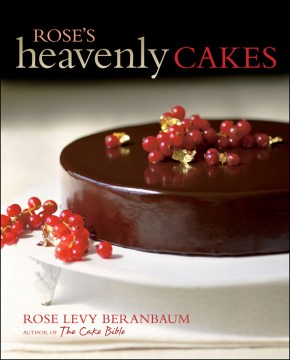 Rose's Heavenly Cakes
by Rose Levy Beranbaum
"Eagerly-awaited by her legions of devoted fans, Rose's Heavenly Cakes is a must-have guide to perfect cake-baking from this award-winning master baker and author of The Cake Bible, one of the bestselling cookbooks of all time. This comprehensive guide will help home bakers create delicious, decadent, and spectacularly beautiful cakes of all kinds with confidence and ease. Rose's Heavenly Cakes features Rose's trademark easy-to-follow, expertly tested (and retested) recipes for perfectly delicious results every time.
Offers over 100 simply wonderful recipes for cakes for every occasion-from exceptionally delicious butter and oil cakes, sponge cakes, and mostly flourless cakes and cheesecakes, to charming baby cakes and elegant wedding cakes. Features special tips and tricks from a beloved baking expert for creating amazing special effects and beautiful cake decor. Everything you need to create heavenly cakes—every time—can be found in this new collection of tried-and-true recipes by one of the most celebrated bakers of our time" (EReadIllinois).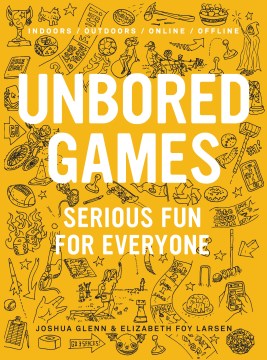 Unbored Games: Serious Fun For Everyone
by Joshua Glen
"Unbored Games has all the smarts, creativity, and DIY spirit of the original Unboard, but with a laser-like focus on the activities we do for pure fun: to while away a rainy day, to test our skills and stretch our imaginations. There are more than seventy games here, 50 of them all new, plus many more recommendations, and they cover the full gambit, from old-fashioned favorites to today's high-tech games.
The book offers a gold mine of creative, constructive fun: intricate clapping games, bike rodeo, Google Earth challenges, croquet golf, capture the flag, and the best ever apps to play with Grandma, to name only a handful. Gaming is a whole culture for kids to explore, and the book will be complete with gaming history and interviews with awesome game designers. The lessons here: all games can be self-customized, or hacked. You can even make up your own games. Some could even change the world. This is a whole shelf of serious fun the whole family can enjoy indoors, outdoors, online, and offline" (EReadIllinois).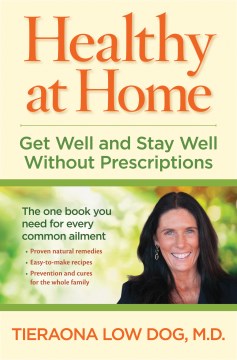 Healthy at Home
by Tieraona Low Dog
"National Geographic helps you take charge of health care guided by a physician expert in natural healing, herbal medicine, and home remedies. Never have we needed this advice more than now, as worries about hospital-borne infections, antibiotic resistance, and pandemic threats make us yearn for the days of doctor home visits and mother's chicken soup. We need to rediscover the special care and comfort that comes from caring for health at home.
In this book Dr. Low Dog guides us in identifying, responding to, and caring for all the most common ailments, so that when it's time to take care at home, you have a doctor's advice on how. Learn how to make herbal remedies and why you and your family will be healthier for doing so—and get advice on when it's best to consult a health care professional instead" (EReadIllinois).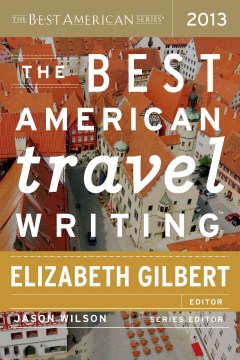 The Best American Travel Writing
by Elizabeth Gilbert
"Number-one New York Times best-selling author of Eat, Pray, Love and Committed: A Love Story, Elizabeth Gilbert transports readers to far-flung locales with this collection of the year's lushest and most inspiring travel writing" (EReadIllinois).
-posted by Huma Abdulaziz
Read Full Post
|
Make a Comment
(
None so far
)
Recently on What's On My Nightstand?…