Mental Health in the Time of COVID-19
As COVID-19 cases are rising, people are getting increasingly anxious and lonely. This pandemic has also greatly affected the mental health of many. For a section of the population, months of isolation with one day indistinguishable from the next and social distancing has taken a mental toll. Minor issues that people were coping with have become magnified. Those with depression are sleeping more. People with anxiety issues are experiencing more panic attacks with little provocation. Although these are trying times, there are healthy ways to cope with the stress and anxiety. It can be difficult, but with the right mindset and resources, coping will make everyone stronger.
The following e-books may help a bit, whether you are someone looking to relieve your own stress or helping others with coping. All are available through Axis360.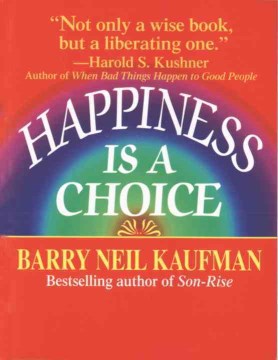 Happiness is a Choice
by Barry Neil Kaufman
"In this new book, Barry very explicitly reveals the options and choices we can all make to find the road to happiness. Barry Kaufman demonstrates clearly and dramatically, that the potential for happiness is inside each of us. He and his wife have observed that people who are most successful in finding happiness share certain traits. And he has used these traits to create six Shortcuts to Happiness that you can begin using immediately. Kaufman demonstrates clearly and dramatically how to make the choice by making love a viable, vital, and useful force in our daily lives" (eReadIllinois).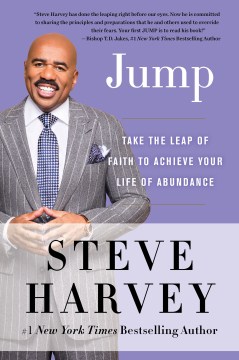 Jump: Take the Leap of Faith to Achieve Your Life of Abundance
By Steve Harvey
"Steve Harvey helps you engage the Divine Spirit within you to find your life's desire and use your own imagination to make your life's vision a reality. At the beginning of each broadcast of his morning radio show, Steve Harvey offers his millions of listeners a few moments of spiritual advice to inspire and guide them. Fans love Steve's wisdom and often share his insightful messages with friends and family.
In this essential book, Steve expands on those daily words of wisdom by providing fans—and anyone in need of spiritual support, comfort, or guidance—this heartfelt collection of spiritual devotions. Steve beautifully and thoughtfully explains what faith is and how it can work miracles in our daily lives. He also talks in-depth about the power of human imagination and how we can use it to make our dreams come true. Steve believes that no vision enters our minds without our ability to make it a reality. As God inspires us to build and create a larger vision for our lives, Steve shows us that when we combine our inherent power with God's divine plan, we can each achieve anything. Steve also reveals the power of using imagination, faith, and hard work to make our visions a reality. Written in an engaging storytelling format in Steve's warm, inviting style, each chapter of this thoughtful book offers invaluable advice and anecdotes that illuminate the power of imagination and how to use our God-given visions to enrich our lives" (eReadIllinois).
Retrain your Anxious Brain
by John Tsilimparis
"Trouble sleeping, panic attacks, knots in your stomach, excessive worry, doubts, and phobias? Anxiety comes in many shapes and sizes, and affects millions of people. But you don't have to suffer anymore. In Retrain Your Anxious Brain, renowned therapist and anxiety expert John Tsilimparis shares the groundbreaking program he's created to help hundreds of people (himself included) free themselves from crippling anxiety and live healthier, happier lives. Rather than just treating or masking symptoms, Tsilimparis's innovative approach helps you identify and short-circuit anxiety triggers, so that you can stop anxiety before it starts. This customizable plan teaches you how to: Alter the fixed thoughts that can cause anxiety, adjust your existing personal belief systems, challenge the idea of consensus reality, balance your dualistic mind, and consciously create your own reality" (eReadIllinois).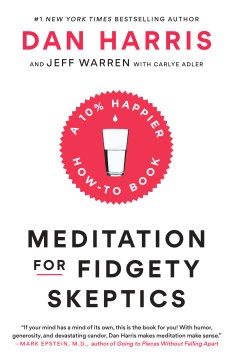 Meditation for Fidgety Skeptics
By Dan Harris
"Too busy to meditate? Can't turn off your brain? Curious about mindfulness but more comfortable in the gym? This book is for you. ABC News anchor Dan Harris used to think that meditation was for people who collect crystals, play Ultimate Frisbee, and use the word namaste; without irony. After he had a panic attack on live television, he went on a strange and circuitous journey that ultimately led him to become one of meditation's most vocal public proponents. Harris found that meditation made him more focused and less yanked around by his emotions. According to his wife, it also made him less annoying. Science suggests that the practice can lower your blood pressure, mitigate depression and anxiety, and literally rewire key parts of the brain. So what's holding you back? In Meditation for Fidgety Skeptics, Harris and Jeff Warren embark on a gonzo cross-country quest to tackle the myths, misconceptions, and self-deceptions that keep people from meditating. It is filled with game-changing and deeply practical meditation instructions, all of which are also available (for free) on the 10% Happier app. This book is a trip worth taking" (eReadIllinois).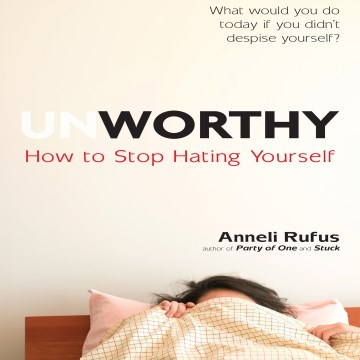 Unworthy: How to Stop Hating Yourself
by Anneli Rufus
"'Self-loathing is a dark land studded with booby-traps. Fumbling through its dark underbrush, we cannot see what our trouble actually is: that we are mistaken about ourselves. That we were told lies long ago which we, in love and loyalty and fear, believed. Will we believe ourselves to death?' (Unworthy). As someone who has struggled with low self-esteem her entire life, Anneli Rufus knows only too well how the world looks through the eyes of those who are not comfortable in their own skin. In Unworthy, Rufus boldly explores how a lack of faith in ourselves can turn us into our own worst enemies. Drawing on extensive research, enlightening interviews, and her own poignant experiences, Rufus considers the question: What personal, societal, biological, and historical factors coalesced to spark this secret epidemic, and what can be done to put a stop to it? She reveals the underlying sources of low self-esteem and leads us through strategies for positive change" (eReadIllinois).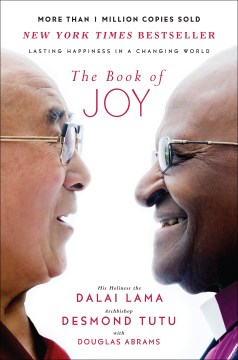 The Book Of Joy
by Dalai Lama XIV and Desmond Tutu
"Two great spiritual masters share their own hard-won wisdom about living with joy even in the face of adversity.   The occasion was a big birthday. And it inspired two close friends to get together in Dharamsala for a talk about something very important to them. The friends were His Holiness the Dalai Lama and Archbishop Desmond Tutu. The subject was joy. Both winners of the Nobel Prize, both great spiritual masters and moral leaders of our time, they are also known for being among the most infectiously happy people on the planet.
From the beginning the book was envisioned as a three-layer birthday cake: their own stories and teachings about joy, the most recent findings in the science of deep happiness, and the daily practices that anchor their own emotional and spiritual lives. Both the Dalai Lama and Archbishop Tutu have been tested by great personal and national adversity, and here they share their personal stories of struggle and renewal. Now that they are both in their eighties, they especially want to spread the core message that to have joy yourself, you must bring joy to others" (eReadIllinois).
-posted by Kevin Purtell and Huma Abdulaziz